Revival Balustrades, Railings & Balusters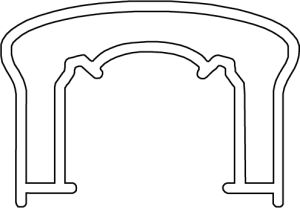 Looking for an aluminium railing system that perfectly mixes classic and modern aesthetics for a neoclassical style look? The Ultralox Interlocking Technology aluminium railing system with the Revival profile is right up your alley, being the perfect middle-ground between our Modern and Victorian profiles.
Designed for commercial and residential applications using patented interlocking machines, we believe our Revival balustrade & railings are the premium choice for getting your aluminium picket fence in Sydney. Installed quickly and efficiently, with stability, safety and durability in mind.
Powder-coated aluminium

Panel Dimensions come in 1763mm and 2319mm lengths and 1050mm in height

Prefabricated panels for fast & efficient installation on site

Durable aluminium construction with a 20-year limited warranty

Engineered & Approved to AS 1170
Our Post-to-Post Railing Configurations are professionally designed to ensure any quantity of balustrade panels are stylish, elegant and befits any application. Spans up to 2400mm.
Our Continuous Railing Configurations are an aluminium picket railing system with a continuous top rail for added elegance to your balustrade. Spans up to 5486mm.
Our beautiful and durable glass balustrades* are available in easy-to-install, convenient kits alongside customised aluminium railing systems to make your projects stand out from the crowd. Coupled with the revival balustrade & handrail profile, it's an elegant way to complement the clarity of your glass balustrades 
Designed to suit 6.5mm and 8mm full tempered glass* offers a clear solution to a great view.

Span up to 1828mm

Optimal visibility for a view where required

Excellent wind barrier

Durable AAMA 2604 powder coat finish

Engineered & Approved to AS 1170
Glass Requirements:
The glass length must be at least 50mm shorter than the finished infill panel length (25mm on each side).

The glass must be 920mm in height

Use 8mm clear heat soaked  toughened glass
*WE ONLY SUPPLY THE ALUMINIUM RAILING AND DO NOT SUPPLY THE GLASS INFILL. CONTACT YOUR LOCAL GLASS DEALER FOR FURTHER ASSISTANCE.
ULTRALOX offers a selection of beautiful railing profile colours, including black, white and bronze railings. Our more unique colour combinations, Piano Rail® and Tuxedo Rail® are for our custom Picket Infill fence panels only.